Selection and Breeding of Variety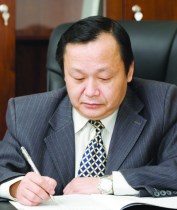 . Principal Investigator, Executive Deputy Director, Prof. CHEN Shanchun
This research team is led by Prof. CHEN Shanchun. The key team members include associate Profs. HONG Qibin, HE Yongrui, YAO Lixiao, GONG Guizhi, YAN Chengquan and Dr ZHOU Xiuping. There are six major research areas:
1) Cross breeding, irradiation breeding and bud-sport selection;
2) Variety selection and breeding by cell and genetic engineering;
3) Genetic study of important traits such as apomixis, resistance to biotic and/or abiotic stresses.
4) Molecular marker assisted selection;
5) Molecular genetic mapping and QTL analysis;
6) High efficiency citrus breeding technology.
| | |
| --- | --- |
| . Assoc. Prof. Dr.ZHOU Xiuping | . Assoc. Prof. HONG Qibin |
| . Assoc. Prof. YAN Chengquan | . Assoc. Prof. HE Yongrui |
| . Assoc. Prof. Dr. YAO Lixiao | . Assoc. Prof. GONG Guizhi |
The team has released 10 citrus varieties and organized several times of national cooperation on citrus breeding and regional trials, and was certified for field evaluation trial for 6 transgenic citrus products, awarded third prize for National Prize for achievement in Science and Technology, and other 15 awards for provincial prize. Currently, ten postgraduate students are studying in this team.
Contact:
Tel: 86-23-68349020; 86-23-68349001; 86-23-68349025;
E-mail: chenshanchun@cric.cn; heyongrui@cric.cn; hongqibin@cric.cn
( Last update: 2014.2)
Contact Us
Address: Xiema, Beibei, Chongqing, P.R.CHINA

ZIP: 400712
TEL: 86-23-68349017, 86-23-68349098

FAX: 86-23-68349712
E-Mail: wangjia@cric.cn