Cultivation and Physiology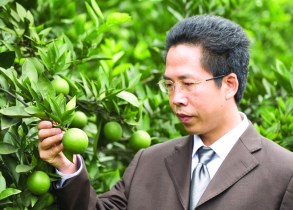 . Principal Investigator, Deputy Director, Prof.PENG Liangzhi
This research team is led by Prof. PENG Liangzhi. The key team members include Prof. DENG Lie and Associate Profs. HE Shaolan, LEI Ting, LING Lili, ZHENG Yongqiang, CHUN Changpin, CAO Li, YI Shilai and JIANG Cailun; and Drs: FU Xingzheng, Lü Qiang and XIE Rangjin. The major research areas are as follows:
1) Citrus flower bud differentiation and fruit-set regulation.
2) Nutrition physiology and balance fertilization.
3) Water physiology and drought resistance
4) cost-saving and high quality cultivation
5) Precision cultivation and remote decision supporting, as well as orchard layout and GAP management.
The major ongoing research programs include: the National High Technology Research and Development Program of China("863"Program); the Earmarked Fund for China Agriculture Research System; the National Natural Science Foundation of China; the National Science and Technology Supporting Program of China;the "121" Science and Technology Supporting and Demonstration Program of Chongqing City; the Key Technologies R & D Program of Chongqing City; as well as the Natural Science Foundation of Chongqing City, etc.
So far, 12 national and provincial awards have been achieved, and 5 invention patents have been licensed. More than 300 research papers and 20 books have been published. 22 graduate students are studying in this team.
Contact:
Tel: 86-23-68349725; 86-23-68247006;
E-mail: pengliangzhi@cric.cn; denglie@cric.cn
( Last update: 2014.2)
Contact Us
Address: Xiema, Beibei, Chongqing, P.R.CHINA

ZIP: 400712
TEL: 86-23-68349017, 86-23-68349098

FAX: 86-23-68349712
E-Mail: wangjia@cric.cn